Listening Visions

Curated by Gail Priest
Presented at Rencontres Bandits-Mages
Bourges, France
Friday November 14, 9pm
http://bandits-mages.com/
Listening Visions is a screening and listening program highlighting the work of innovative Australian sound and media artists. Interspersed between short audiovisual works are pure aural experiences, allowing the audience to contemplate the powerful effect vision has on hearing while also appreciating sound as a non-retinal medium.
All the works occupy the space of the abstract (inorganic) rather than figurative (natural). The video works are chosen for their tight interlinking of sound and image, preferencing concrete data conversions over associative visual interpretations. The sound pieces share connections in their use of often harsh, texture-driven impulses that accumulate to create non-figurative though no less dramatic sonic environments. The intention is to loosen the grip of figurative images on the immersive listening experience.
Total Duration: 70mins

Robin Fox
Volta, 2006, video (20:31)
Volta explores a direct one-to-one relation of sound and light at the level of the electrical signal. By sending an audio signal directly to a cathode ray oscilloscope (which is then filmed) the sound is drawn as exquisite geometric patterns of increasing complexity.
Robin Fox is a Melbourne-based audiovisual artist working across live performance, exhibitions, public art projects and dance. His laser works, which synchronise sound and visual electricity in hyper-amplified 3D space, have been performed in over 50 cities worldwide. He holds a PhD in composition from Monash University and is currently a recipient of the 2014/15 Creative Australia Fellowship.
http://robinfox.com.au/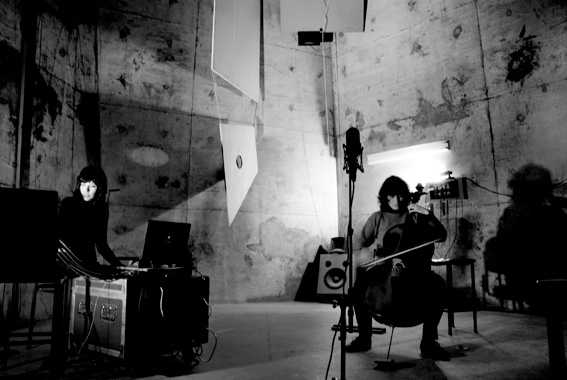 Anthea Caddy & Thembi Soddell
A Shut in Place, 2012, audio (8:23)
From the album Host (Room40).

Using a combination of sampled and performed cello, A Shut In Place creates a dynamic interplay between physical reality, sensory perception and psychological interpretation by examining the threshold between real and constructed space.
Anthea Caddy (cello) and Thembi Soddell (sampler) are Melbourne-based artists. Together they rigorously shape aural representations of physical environments to express psychological experience. Host is their second collaborative release (the first is Iland, 2006, Cajid). They have also been commissioned for a number of multichannel concert presentations and gallery installations and have toured (together and separately) nationally and internationally.
http://www.antheacaddy.com
http://cajid.com/thembi/discography.html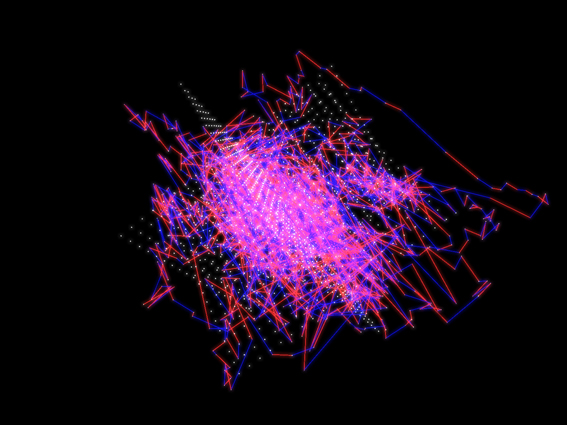 Kynan Tan
consciousness (sleep lattice), 2012, video (10:00)
A single channel excerpt from the live audiovisual work consciousness. By analysing sleeping brain waves and using this data to control variables of the computer-generated audio and vision, Tan attempts to connect the real and surreal while allowing the computer to partake in the chaos, playfulness and wonder of unconscious thoughts.
(Commissioned by Tura New Music through the 2010 Tura New Music Commission Prize.)
Kynan Tan is an artist working with digital processes to investigate networks, data transference and relational structures between multiple senses. These works take the form of multiscreen audiovisual performances, installations, 3D-printed sculptures, improvised sound and kinetic artworks involving electronic circuits, speakers and lights.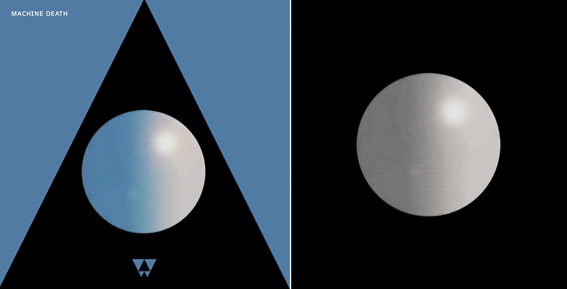 Machine Death
You Ruin Everything, 2012, audio (6:45)
From the EP Machine Death (Wood & Wire)
Machine Death class their sound as "new wave sludge-core." While brutal in texture, there is inherent drama in the dense harmonic shifts and an epic industrial beauty.
Machine Death is Ben Byrne and Ivan Lisyak. Byrne is a Melbourne-based artist, musician, curator, researcher, tutor and writer whose work traverses musical performance and improvisation, installation, composition, radiophonics and sound theory. Lisyak is a musician from the Blue Mountains, now based in Sydney, whose solo performances and recordings on guitar and stomp boxes strip rock 'n' roll bare.
Andrew Gadow
Three Colours White², video, 2013 (14:36)
Three Colours White² is a live recording of an audiovisual performance in which audio was created and then directly ported into a video signal which was then in turn re-ported back to an audio signal. While the title could be seen as a pop culture reference to Kieślowski's Three Colours Trilogy, it is actually a reference to when equal video signals of Red, Green, Blue (RGB) are received and a white image is displayed.
Andrew Gadow is a Sydney-based artist who uses old and hacked technology to create synaesthetic audiovisual work situated at the point of breakdown between sound and image. Typical of Gadow's work is a Heidegger-esque idea of the technology itself being seen as the artwork.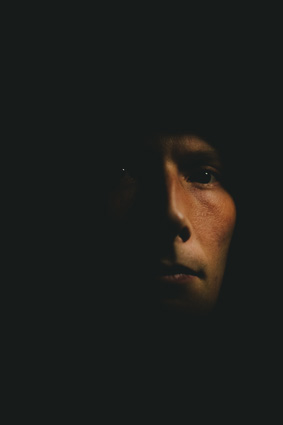 Lawrence English
From the album Wilderness of Mirrors (Room40)

Wilderness of mirrors" is taken from T.S Eliot's elegant poem Gerontion. Within the context of the record, the phrase acts as a metaphor for a process of iteration that sits at the compositional core of the LP. Buried in each final piece, like an unheard whisper, is a singularity that was slowly reflected back upon itself in a flood of compositional feedback—erasure through auditory burial.
Lawrence English is a Brisbane-based composer, media artist and curator. Working across an eclectic array of aesthetic investigations, English's work prompts questions of field, perception and memory. He investigates the politics of perception via live performance and installation to create works that ponder subtle transformations of space and ask audiences to become aware of that which exists at the edge of perception.
Gail Priest participated in the Rencontres Bandits-Mages Festival as part of her residency within the framework of EMARE Move On at Bandits-Mages, France in association with La Box – École nationale supérieure d'art de Bourges with support of the Culture 2013 Programme of the European Commission.