Live Sound
2017 / 2016 / 2015 / 2014 / 2013 / 2012 / 2011 / 2010 / 2009 /2008 / 2007 / 2006 / 2005
2018
The Altitude Project
On a Wing & Orographic Lift, two compositions for live performance commissioned for the Altitude Project, curated by Miriam Williamnson & Mahalya Middlemist.
Kingsford Smith Park Sound Shell, Katoomba
February 17, 2018
http://thealtitudeproject.com/the-sites/kingsford-smith-park/

2017
INSIDE: Concert series
curated by Matthew Hopkins
Paddington Town Hall
November 12, 2017
RMIT Gallery: Experimenta Make Sense Up Late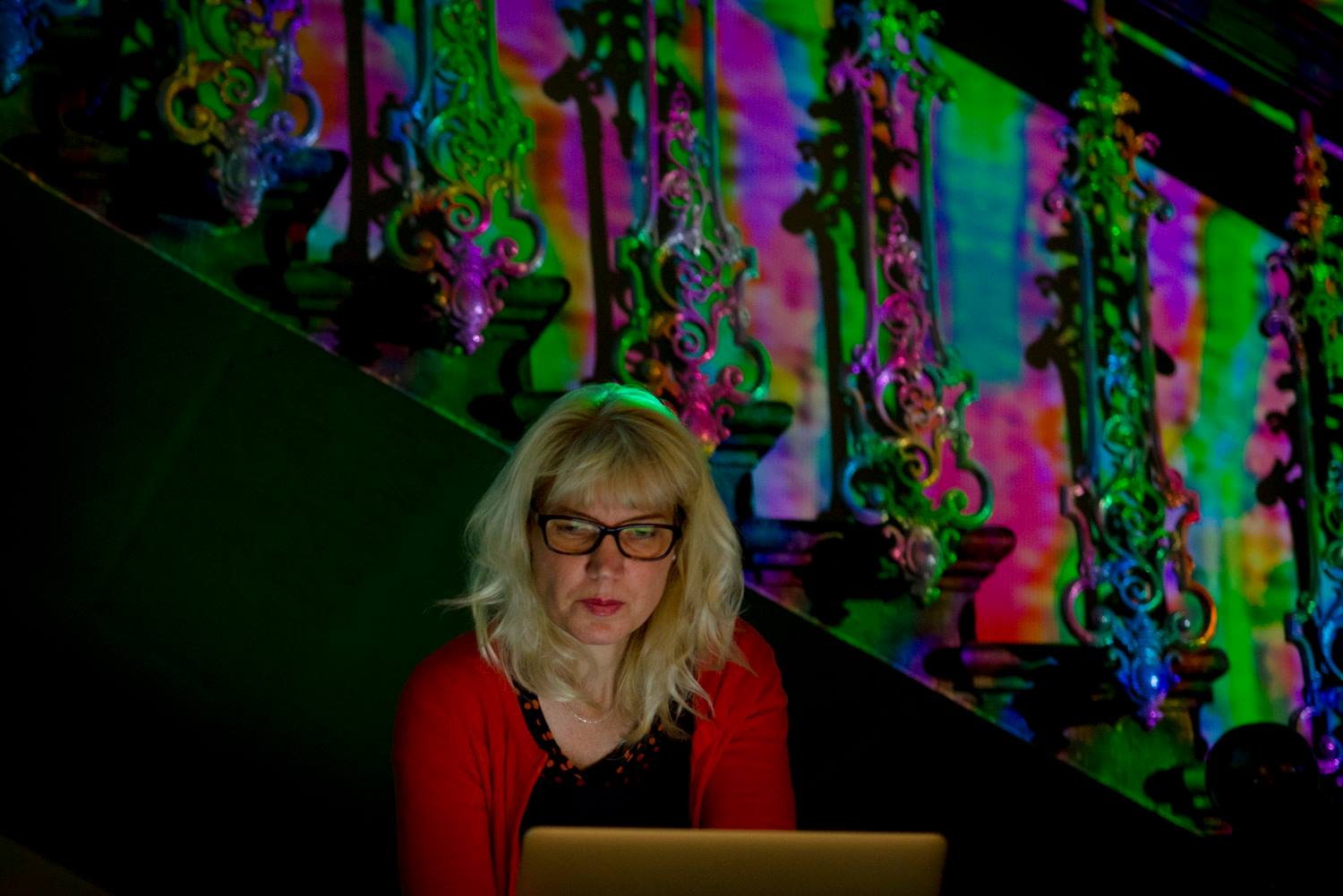 Live sound performance to accompany the Experimenta Makes Sense Uplate program
Gail Priest (sound) / Cat Full of Ghosts (visuals)
RMIT Gallery, Melbourne
November 2, 2017
Image: Theresa Harrison Photography
Cipta Gelar Remix Project
with Dan MacKinlay, Anomie, Kieren Ruffles
Fri 29 Sept 2017
107 Projects Redfern
https://hiteklotek.bandcamp.com/album/cipta-gelar-remixed

Ultracollective
with Hidden, m.rocket & ghostgirl, Scattered Order
Sat 9 Sept 2017

Monash University Music Residency

1 week residency and concert with MEME - Monash Electronic Music Ensemble
Wed 23Aug 2017
Monash University Music Auditorium
Liquid Architecture/MUMA: Sound Spaces
Félicia Atkinson [FR] and Gail Priest
A performance manifestation of some of the material from the Sounding the Future project.
Sat 5 Aug 2017
Monash University Museum of Art, Melbourne
M*Synch: Unconscious Collective, Hypnapod
MPavilion, Melbourne, Feb 11 2017
http://www.unconsciouscollective.org/msync/
SoundOut 2017


Drill Hall, Canberra, Feb 4-5 2017
http://soundout2017.blogspot.com.au
Image: Susan Clarke
2016
Vertical Waves + electronicgirls, Venice Mestre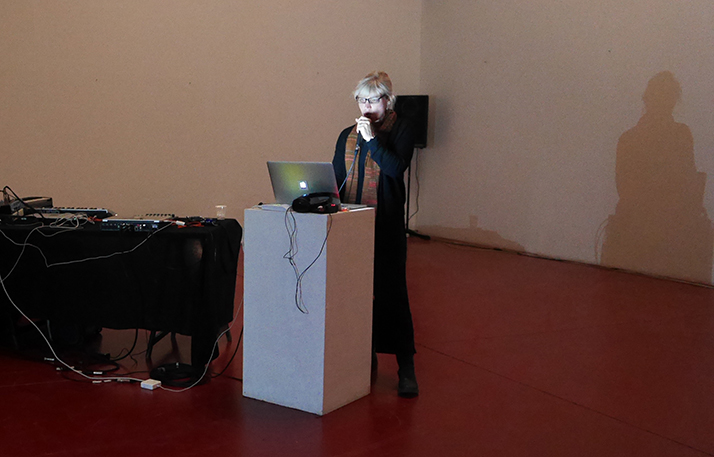 Vertical Waves Project with Bertrand Rossa (IT)
Federico Dal Pozzo​ (IT)
Gail Priest​ ​(AUS)​
November 13, 2016
Associazione Culturale Internazionale
"Atelier 3+10" Studio Artistico
https://www.facebook.com/events/361254094222284/
http://electronicgirlslabel.weebly.com
Nor∂andvindur Sound Residency & Festival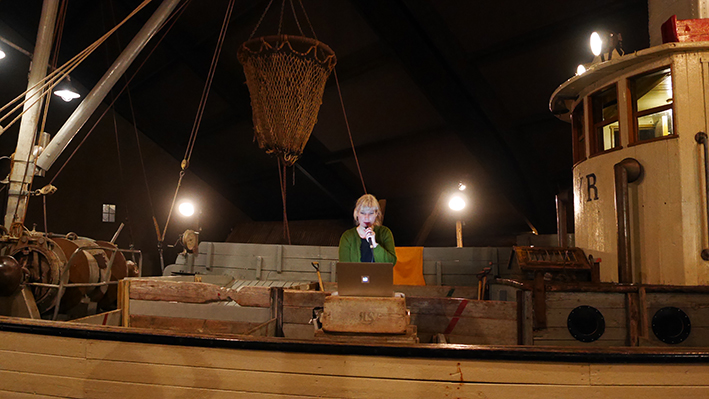 Across September-October I took part in the Nor∂anvindur Sound Art Residency run by Listhus in Olafsfjor∂ur, Northern Iceland. There were several performances and presentations that took place across the residency.
A! Festival
Akureyri Art Museum
September 3, 2016

Airings
Herring Era Museum, Siglufjor∂ur
October 20, 2016

Songmapping Olafsfjor∂ur Live
Salur Myndlistafélagsins, Akureyri
October 28, 2016
Songmapping Olafsfjor∂ur - installation
Salur Myndlistafélagsins, Akureyri
October 29, 2016 - see installations
Final concert
Verksmiðjan á Hjalteyri
October 30, 2016
http://listhus.com/norethanvindur-north-wind-sound-art-residency-program.html
https://www.facebook.com/events/164274887366229/?active_tab=about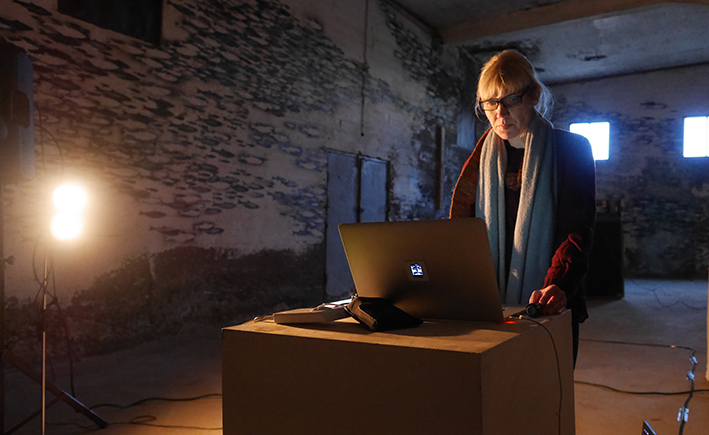 Pretty Gritty #16 - AV duo with Marieke Verbiesen
Pretty Gritty #16 - reanimations
Dan Mackinlay
Kynan Tan
Marieke Verbiesen (live animation) + Gail Priest
Actual Russian Brides
July 17, 2016
107 Projects, Redfern
http://www.pretty-gritty.net/july17_2016.html
The NOW now, 2016
Opening night of the annual festival of spontaneous music featuring
BAND OF FIVE NAMES: Phil Slater, trumpet; Carl Dewhurst, guitar; Simon Barker, drums; Matt McMahon, piano
HANS KOCH/THOMAS PETER DUO (Switzerland)
Julia Reidy, Solo 12 string guitar
ROSE/THOMAS/RAPP: Jon Rose, violins; Clayton Thomas, Double Bass; Mary Rapp, Cello
Gail Priest, Voice and Electronics
Lucas Abela is: GRANPA with Alister Spence & Sy Kahn, upright piano
January 18, 2016
107 Projects, Redfern
http://thenownow.net/festival-2016/
Earopund
women's music festival
A 2 day festival of eclectic genres, flipping the gender balance to 80% women, 20% men.
curated by Astrid Zeman & Hiske Weijers.
January 30, 2016
Alpha Gallery
https://www.facebook.com/events/1034395599916085/
2015
Experimontag
Berlin, Germany
with Jasmine Guffond
Gail Priest
October 26, 2015
http://www.madameclaude.de/events/experimontag-92/
Kammer Klang, Café Oto, London
SPEAK PERCUSSION
PLUS MINUS & MATTHEW SCHLOMOWITZ
GAIL PRIEST
Vessel is piece for live performance using no pre-recorded material. Quiet, feedback is generated by placing a microphone in a number of glass vessels. Vocal improvisations augment the irregularly looped tones, the piece growing from sparse and ethereal to dense and aggressive. It is an attempt to "play" the emptiness, drawing sounds from the air and sculpting them into something solid.
Listen to the complete concert on Clear Spot Resonance FM
3 November, 2015
Kamer Klang, Cafe Oto, London
http://kammerklangarchives.co.uk/3-November

.move On, Werkleitz Festival Opening
In addition to presenitng my installation Sounding the Future, I performed the work Vessel for the opening ceremony of the .move ON exhibition, Werkleitz, Halle.
Vessel is piece for live performance using no pre-recorded material. Quiet, feedback is generated by placing a microphone in a number of glass vessels. Vocal improvisations augment the irregularly looped tones, the piece growing from sparse and ethereal to dense and aggressive. It is an attempt to "play" the emptiness, drawing sounds from the air and sculpting them into something solid.
9 October, 2015
Halle-Saale, Germany
http://moveon.werkleitz.de/en

Men er'e eksperimentelt 'a?
with Alexander Rishaug
Kulturehuset, Oslo
.A.Rishaug
Gail Priest (AUS)
curated by Petter Flaten Eilertsen
October 22, 2015
http://petterfe.com/concerts/curator/alexander-rishaug-gail-priest/
Residency, BEK
Bergen Center for Electronic Arts Bergen, Norway
A one week residency in which I further developed my live performance methodologies for vocal processing and noise. Plus artist presentation inc Audible Women (Oct 16)
October 15-21, 2015
http://www.bek.no/projects/489-artist-talk-gail-priest?locale=no-NB
The NOW Now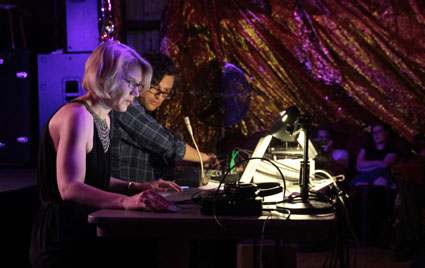 Annual festival of all things improvised. I performed an instant improv trio with Joel Stern (electronics) and Lizzie Thomoson (dance) and also played in the Electronic Resonance Korps (ERK), a 9-piece laptop orchestra
Jan 14-18
The Red Rattler
http://thenownow.net
2014
Atelier Calder
Saché, France
To conclude my residency period in Central France a private concert at the Atelier Calder was arranged by Sandra Emonet.
Dec 15, 2014
See invite. Documentation & Interview here (in French)
http://aaar.fr/revue/article/de-lart-sonore-avec-gail-priest-par-romain-deschambres-et-sandra-emonet/
Cave 40
Bourges, France
BLAST OF SILENCE (Julien Ottavi & Kasper T. Toeplitz)
FEMME (Arno Bruil & Fusiller)
GAIL PRIEST
Dec 2, 2014
Cave 40, Bourges
You can hear the concert here
Rencontres Bandits-Mages
Bourges, France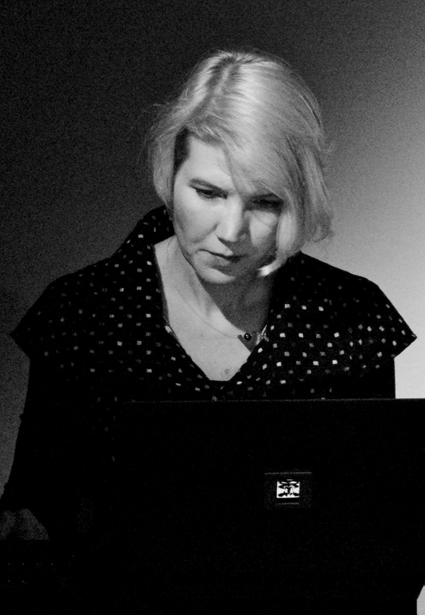 Performance & discussion between Gail Priest and Alexandre Castant
plus carte blanche - Listening Visions screening Program
Friday Nov 14 - Journée Sonore
Le Guillotin, Bourges
http://bandits-mages.com/rencontres-2014/?page_id=501&lang=en
DECIBEL - After Julia
Featuring Hon Julia Gillard. 
The concert featured the world premieres of seven newly commissioned works by outstanding Australian composers reflecting on the Hon. Julia Gillard's time as the first female Prime Minister of Australia. The broad collection of works includes a 6-girl choir, instructions from goldfish, spoken phrases turned into musical gestures, mouth organs and more. 
Gail Priest - Everything and Nothing
Thembi Soddell - our sickness is felt in my body
Cat Hope -Tough It Out
Cathy Milliken - Shifrorl
Michaela Davies - Goldfish Variation
Kate Moore - Oil Drums
Andree Greenwell - Arrows I, II
Eugene Goosens Hall, ABC Centre, Ultimo, Sydney
Live to Air, ABC Classic FM, New Music Up Late
November 8, 8pm.
Presented by ABC Classic FM and Tura New Music
http://www.abc.net.au/classic
http://www.decibelnewmusic.com/after-julia.html
2013
Diffuse @ UTS
with Gail Priest, Peter Hollo, Alon Ilsar, Roger Mills& Nathan Wilson
curated by Jon Drummond
Each peformer played a small solo which overlapped with the next the performer.. Here is an excerpt of my performance sequing with Peter Hollo's cello wonder.
June 2013
Bon Marche Studio, UTS
2013 gigs also included 107 Open Day & Pretty Gritty
2012
blue

|

green

vinyl launch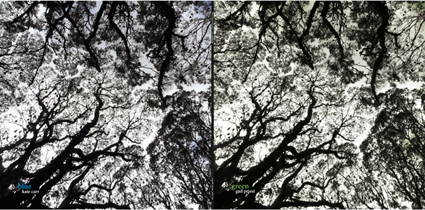 featuring
Emily Grantham
Broken Chip
Dan Whiting
Kate Carr
Gail Priest
November 4, 2012
107 Projects
http://www.107projects.org/
See album
Crests & Troughs @ UTS

manipulated live and prerecorded vocal material, pretty/dirty crests and troughs, beats, sampling, re-mix, found sound
featuring
Gail Priest
Shannon O'Neill
Roger Mills
Scott Saunders
Thursday 7 June 6.30pm
@ Bon Marche Studio
University of Technology, Sydney

Women of Note - Book Launch
Celebrating the launch of the book Women of Note by Rosalind Appleby (Freemantle Press).

with performances by Cat Hope & Decibel, Gail Priest, Betty Beath, Anne Carr-Boyd & Cathie Travers

Feb 25, 5pm
UWA's Dolphin Theatre, Perth

Click here for more info
the NOW now 2012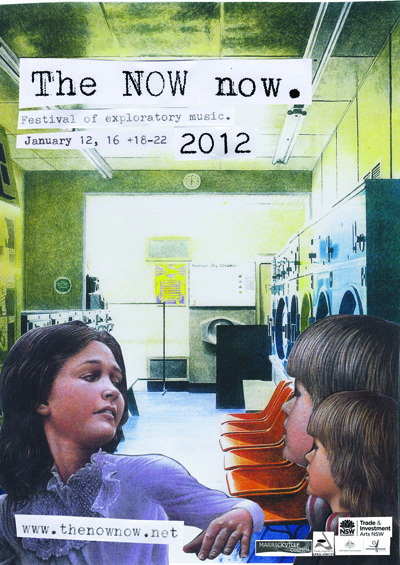 Improv quartet
GAIL PRIEST (Voice & Electronics),
IAN PIETERSE (Baritone Sax),
JEREMY TATAR (Flute)
TONY OSBORNE (Voice & Electronics)
Saturday Jan 21, 2012
@ The Red Rattler
http://thenownow.net/2012-festival/
2011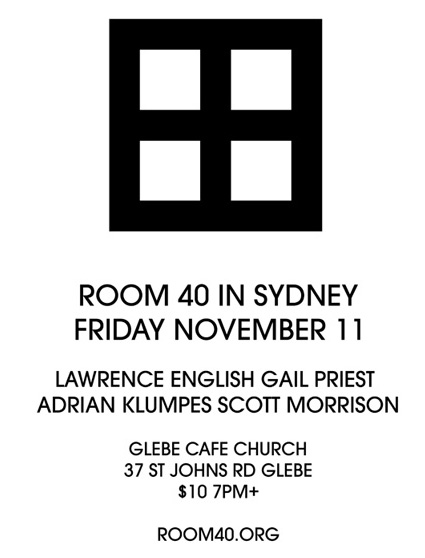 psh.live
Tony Osborne, Gail Priest, Whale + Cheng
voice business
Sunday, October 30, 2pm - 6pm
PSH Gallery, Rozelle
www.anyplaceprojects.com/psh-live/
The Gate
Raven
Part-timer / Scissors & Cellotape / Upward Arrows
Ollie Brown
Gail Priest

A line-up curated by Peter Hollo of FBi Radio's Utility Fog, this night will feature a diverse mix of organic sounds meeting and being intermingled with technological counterparts to form something altogether new and exciting.

July 30
The Gate @ Pablo & Rusty's Specialty Coffee
flyer
2010
UNCOORDINATED #10
Sonic Acts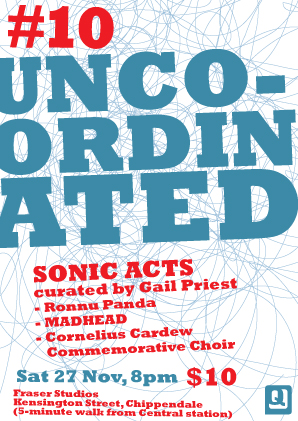 with
Ronnu Panda - vocals/laptops
MADHEAD - solo vocals/electronics
C4 (Cornelius Cardew Commemorative Choir )
curated
(and with interludes) by Gail Priest

November 27, 2010
Fraser Studios
Presentiments from the Spider Garden CD Launch
with live sets by
Gail Priest
Raven (Peter Hollo/FourPlay)
Jon Watts
Sounds of Homes (Shane Fahey, Tegan Northwood, Honi Ryan)

November 6, 2010
Hardware Gallery
http://www.endgame.com.au
See album
October 17, 2010
Serial Space
Sept/Oct - Europe Jaunt!
Cafe Wendel, Berlin, Germany
Gail Priest (Aus)
Arnaud Laprêt solo (France)
September 7, 2010
http://www.nstp.de/nstp/frameset-wendel.htm

wonderwep
September 16, 2010
Loos Studios, Den Haag, Netherlands
www.loosfoundation.com
See the Audition compilation for an exceertp of the performance
Steim
with Astro Twin (Ami Yoshida & Utah Kawasaki)
dj sniff
Sun Sept 19
Amsterdam, Netherlands
http://steim.org
Ptarmigan
September 24, 2010
Helsinki, Finland
Sound Series
Kusum Normoyle, Jon Hunter, Mike Majkowski & Jim Denley,
Automating, Gail Priest

August 20, 2010
@ Hardware Gallery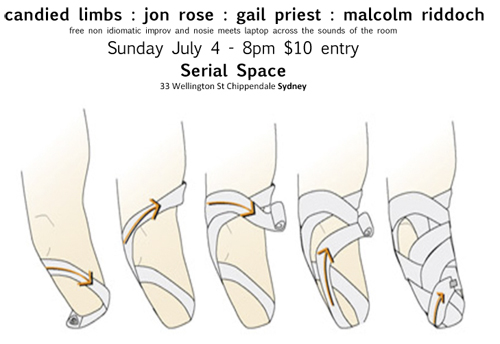 Jon Rose, Candied Limbs, Gail Priest, Malcolm Riddoch
free non-idiomatic improv and noise meets laptop across the sounds of a roomSunday
July 4, 2010
Serial Space

An evening of heavy ecstasy with
Machine Death
Mandala Trap
Gail Priest (guest programmer)

July 3, 2010
Artspace - The Gunnery Building
Woolloomooloo
See event documentation
Endgame Records presents
A Cloakroom Assembly's Territory + Population Launch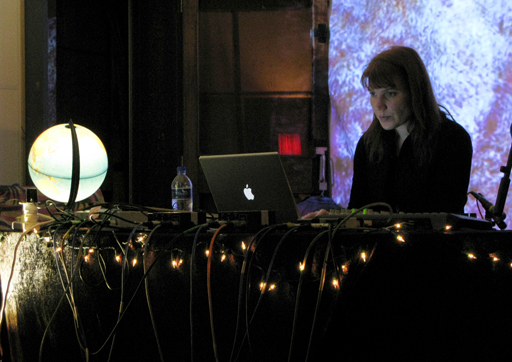 A Cloakroom Assembly
Pimmon
Shane Fahey
A Slow Rip
Gail Priest
June 19, 2010
Megaphon Studios
http://www.endgame.com.au/
The Artist Formerly Known As "The Artist Formally Known As Doctor Deaf" - Solo Reunion Performance Featuring Gary Butler
Gail Priest - laptop, vocals with Anna Chase - vocals, accordion
A first time collaboration that we suspect might yield velvety swathes, pretty shards and hints of song
Simon O'Rorke (New Zealand) - drums, percussion / Jack Dibben - guitar / Milica Stefanovic - electric bass
May 17, 2010
@ Serial Space
http://thenownow.net/
2009
Peats Ridge Festival
December 30, 2009
Peats Ridge Festival 2009
An annual festival focused on environmental sustainability held 2 hours north of Sydney for three days over the New Year.


1/4_inch
featuring
Rob Hughes
Gail Priest
Mark Brown & Khaled Sabsabi
Emma Russak and Alec Marshall
and Sounds Of Homes
August 22, 2008
www.1-4inch.com
2008
Electronic Church, Berlin
Gail Priest + Sam James (Australia)
Recent audiovisual experiments from Calcutta, Prague & Glasgow
Fabrizio Nocci + Philipp Geist
see an excerpt on YouTube and some documentation of the performance (very dark) on Vimeo.
Thanks to Stephane.
June 19, 2008
Electronic Church
2007
Circadian Rhythms
Featuring: Tarab, Jim Denley & Gail Priest
Guest curator: Gail Priest
September 14, 2007
Artspace

Electrofringe/This is Not Art
An evening of performances from Electrofringe artists in the great outdoors. Featuring: Gail Priest, Secret Killer Of Names, Ross F Manning, Hetleveiker, Fugal Queese, Undecisive God, Anna Chase
September 30, 2007
Newcastle
www.electrofringe.net
Immersion: Electrical Empathy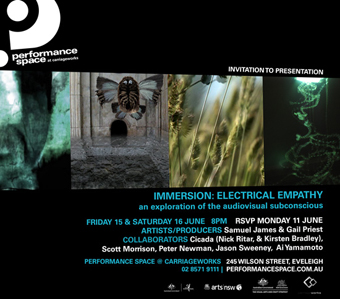 ARTISTS/PRODUCERS Samuel James & Gail Priest
COLLABORATORS Cicada (Nick Ritar, Kirsten Bradley), Scott Morrison, Peter Newman, Jason Sweeney & Ai Yamamoto
June 11 - 16, 2007
Performance Space @ CarriageWorks

See event page for documentation
2006
Imaginary conversations in reverberant rooms Debut CD
with sets by
Gail Priest and her co-producers:
Julian Knowles, Peter Blamey, Jasper Streit
video interludes by Sam James
November 1, 2006
Lan Franchi's Memorial Discotheque
See album
Ten[d]ancy
Elizabeth Bay House A one-off sound performance at the historic Elizabeth Bay House to accompany the Tend[d]ancy exhibition. I created a multi-channel composition, distributed through several rooms of the house.

The Tend[d]ancy exhibition (July 8-Oct 22) includes works by Shaun Gladwell, Gary Carsley, Hannah Furmage, Jonathan Jones, Claire Healey + Sean Cordeiro + Martin Blum + Simone Fuchs.
Curated by Sally Breen & Tania Doropolous

August 18, 2006
Elizabeth Bay House

Liquid Architecture 7
Performance Space The Sydney leg of the annual Liquid Architecture festival of sound arts.
Concert 1 featuring:
Pimmon
Dean Roberts (NZ)
Greg Davis & Jeph Jerman (USA)
Donna Hewitt & Julian Knowles
Gail Priest

July 6, 2006
Performance Space
Gail Priest also included on the Liquid Architecture 7 CD sampler
2005
Typhoon - performing sound
An extreme and diverse series of performances drawing on experimental musics from the areas of noise, rock, improv and digital. The event will be a beguiling clash of overtly physical performances—highly performative, although not necessarily body oriented works.
Program 1: Haco, Joyce Hinterding, Robin Fox, Fast Mountain Die
Program 2: Jojo Hiroshige, Lovely Midget, Gail Priest, Stasis Duocurated by Caleb K.
October, 21-22, 2005
Artspace

Electrofringe
Live audio visual perfomance with Samuel James (video) for Elec-Sonic BBQ.

October 3, 2005
TPI House, Newcastle
Continuum Sax - 4 x 4
Continuum Sax, in collaboration with sound artist Gail Priest, present an exciting concert that includes the world premiere of a new work for saxophone quartet by Jane Stanley, the Australian premiere of Rolf Gehlhaar's Divine Wind, a new work for saxophone and electronics devised by Gail Priest and Continuum Sax, and a performance of Andrew Ford's Four Winds to mark the launching of Continuum Sax' second CD.

Margery Smith, soprano sax; James Nightingale, alto sax; Martin Kay, tenor sax; Jarrod Whitbourn, baritone sax; and special Guest Artist: Gail Priest, Sound Artist
August 20, 2005
Music Workshop, Sydney Conservatorium of Music
The Audiotheque 2005: Finding The Signal In The Noise
ABC's The Night Air present an evening of live audio experimentation with sound and visual artists Ben Byrne, Shannon O'Neill, Pimmon, Joyce Hinterding, Rik Rue, Gail Priest, Ivan Lisyak, Sherre Delys, and Fold. Presented in association with The Media Department at Macquarie University. The Audiotheque 2005: Finding The Signal In The Noise
was broadcast nationally on September 18 2005 at 8.30pm
August 27, 2005
ABC Studio 22, ABC Centre