Curation
2016 / 2015 / 2014 / 2013 / 2011 / 2010 / 2007 / 2006/ 2004 / 2003
2015
Pretty Gritty 2015 @ 107 Projects
Pretty Gritty is a series presenting experimental electronica and various other elusive genres. It takes place roughly bi-monthy at 107 Projects Redfern.

For full details see www.pretty-gritty.net
2014
Listening Visions
Rencontres Bandits-Mages
Featuring: Robin Fox, Thembi Soddell & Anthea Caddy, Kynan Tan, Machine Death, Andrew Gadow, Lawrence English
Listening Visions is a screening and listening program highlighting the work of innovative Australian sound and media artists. Interspersed between short audiovisual works are pure aural experiences, allowing the audience to contemplate the powerful effect vision has on hearing while also appreciating sound as a non-retinal medium.
All the works occupy the space of the abstract (inorganic) rather than figurative (natural). The video works are chosen for their tight interlinking of sound and image, preferencing concrete data conversions over associative visual interpretations. The sound pieces share connections in their use of often harsh, texture-driven impulses that accumulate to create non-figurative though no less dramatic sonic environments. The intention is to loosen the grip of figurative images on the immersive listening experience.
Total Duration: 70mins
Friday November 14, 2014
Bourges, France
http://bandits-mages.com/site2015/en/blog/2015/03/09/gail-priest-listening-visions/
ArtBar, Museum of Contemporary Art
Rapture/Rupture
As part of Performance Space's Sonic Social program at the Museum of Contemporary Art, Sydney, I'm curating the June ArtBar.
Rapture/Rupture
Sound moves us because it moves through us. Sonic waves penetrate our bodies and make our viscera tremble—the louder the sound the more we vibrate. Rapture/Rupture will offer audio experiences and performances that aim for maximum molecular movement—dancing on the inside.
Featuring Pimmon, Scisssor Lock, Cat Hope, Daniel Whiting, Michaela Davies, Peter Blamey, Andrew Gadow, Julian Day, Luke Janniste, Gail Priest & Kate Carr, Sam James with screenings by Robin Fox, Kynan Tan & Rachel Watts + more
Friday June 27, 7-9pm
Museum of Contemporary Art
Tickets http://www.mca.com.au/events/artbar-27-june-2014
Pretty Gritty 2014 @ 107 Projects
Pretty Gritty is a series presenting experimental electronica and various other elusive genres. It takes place roughly bi-monthy at 107 Projects Redfern.

For full details see www.pretty-gritty.net
2013
Pretty Gritty 2014 @ 107 Projects
Pretty Gritty is a series presenting experimental electronica and various other elusive genres. It takes place roughly bi-monthy at 107 Projects Redfern.

For full details see www.pretty-gritty.net
2011
New Weird Australia: VOX (NWA010)

A compilation released by the New Weird Australia initiative featuring Australian artists working across pop and exploratory music, using voice as the primary instrument.
Co-curated by Gail Priest & Stuart Buchanan
Featuring: Kusum Normoyle, Paul Heslin, Amanda Stewart, The Deadly Nightshades, Kucka, Mimic Mass, Holy Balm, Major Napier, Alice Hui-Sheng Chang, Donna Hewitt, Skyneedle, Furchick, Scissor Lock, Mosaic Mosaic, Ronnu Panda, Rabbit Island, Juarez
More info & free download
2010
Superdeluxe@Artspace
part of the Biennale of Sydney 2010
During the 2010 Sydney Biennale, Artspace was an Australian outpost of the famous Tokyo music club Superdeluxe. A number of Australian artists were invited to be guest programmers. I curated an evening titled Heavy Ecstasy.
Featuring: Mandala Trap (Jeff Burch from Songs & Paul Gough aka Pimmon), Machine Death (Ben Byrne & Ivan Lisyak), Gail Priest
July 3, 2010
Artspace - The Gunnery Building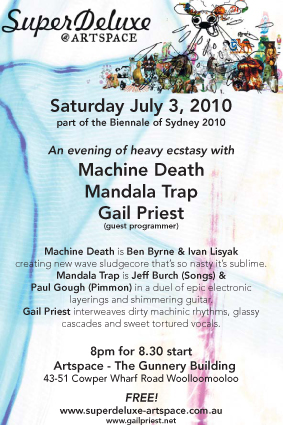 2007
Circadian Rhythms
Artspace

Circadian Rhythms is a sound-cycle exploring the phases, phrases and songs of a city and its inhabitants
Featuring: Tarab, Jim Denley &, Gail Priest
Guest curator: Gail Priest
September 14, 2007
Artspace
Immersion: Electrical Empathy
ARTISTS/PRODUCERS Samuel James & Gail Priest
COLLABORATORS Cicada (Nick Ritar, Kirsten Bradley), Scott Morrison, Peter Newman, Jason Sweeney & Ai Yamamoto
June 11 - 16, 2007
Performance Space @ CarriageWorks
2006
What Survives: sonic residues in breathing buildings
Download catalogue (PDF 908Kb)

Installation Artists: Alex Davies, Nigel Helyer, Jodi Rose

Sound Station Artists: Garry Bradbury, Joyce Hinterding, Aaron Hull, Somaya Langley, Sumugan Sivanesan, Amanda Stewart

Curated by Gail Priest
An exhibition exploring the real and imagined remnants of human presence in architecture. The structures we build bear silent witness to human behaviour—what have the walls, beams and girders absorbed and what sonic secrets can be coaxed back out of them? Does this ephemeral material influence the energy of the spaces we inhabit? Taking inspiration from Rilke What Survives explores the indestructibility of energy and its subsequent transformations and manifestations.
Performance Space Galleries
Sydney, March 24-April 15, 2006
unNatural Selection
An exhibition of sculpture and installation driven or inspired by technology. The chosen works are experiments in re-creating and re-interpreting natural elements and environments through the most unnatural means. The works are animated, almost alive, responding to touch or presence, some sustaining themselves though their own feedback loops, offering different mediated environments for future fantasy habitation.
Artists: Melanie Foster, Matt Gardiner, Daniel Green, Robin Petterd, Jasper Streit
Curated by Gail Priest
Manning Regional Gallery
Taree, March 17-April 16, 2006
2005
Snagglespussy presents
e)scapes
A series of event in Sydney featuring performances by sound & audiovisual artists plus screenings of experimental video works.
Produced and curated by Gail Priest
# 1 - Winter edition
Into the tumult sent an alien sound*
Thurs June 23, 2005
# 2 - Spring edition
The heart was almost mine with which I felt
Thurs Sept 1, 2005
# 3 - Summer edition
So that the blood will laugh in our veins
Tues December 13 2005
2004
d>Art.04 Sound
dLux Media Arts
Sound exhibition for headphones featuring works by Vicky Brown, Ben Byrne, Tim Catlin, Takumi Endo (Japan), Kazumichi Grime & Anthony Guerra, Camilla Hannan, Gintas Kraptavicius (Lithuania), Jesper Norda (Sweden), Phillip Pietruschka, Matt Warren
June 17-27, 2004
dLux media|arts, Sydney Opera House Exhibition Hall
Curated by Gail Priest
AlternaTerraZones - Transmediale 04
Screening program curated by Gail Priest and Vicky Clare, drawn from the Electrofringe selection for Transmediale Fly Utopia festival. Gail also attended the festival to present the program.
2003-4
Electrofringe
Gail Priest was a co-director of Electrofringe for the 2003/2004.
Electrofringe is a festival of digital, electronic and new media arts. It is dedicated to unearthing emergent forms, highlighting nascent trends and encouraging young and emerging artists to further explore technology and its creative possibilities.
In 2003/4 Electrofringe was an annual festival that took place in the regional city of Newcastle and was part of the This Is Not Art Festival.
more info on 2003 festival…
more info on 2004 festival…
2002-3
Hold on… and Sounds like
Performance Space
Sound exhibitions curated for the hold music of Performance Space
Curated by Gail Priest & Michaela Coventry
2003 - Featuring: d.haines, Hydatid, Snagglepussy, Tim Koch, toydeath, mik la vage, djbc
2002 - Featuring: Ai Yamamoto, Lawrence English, Boo Chapple, Rose Turtle-Ertler, Jasmin Guffond
Performance Space, 2002/2003